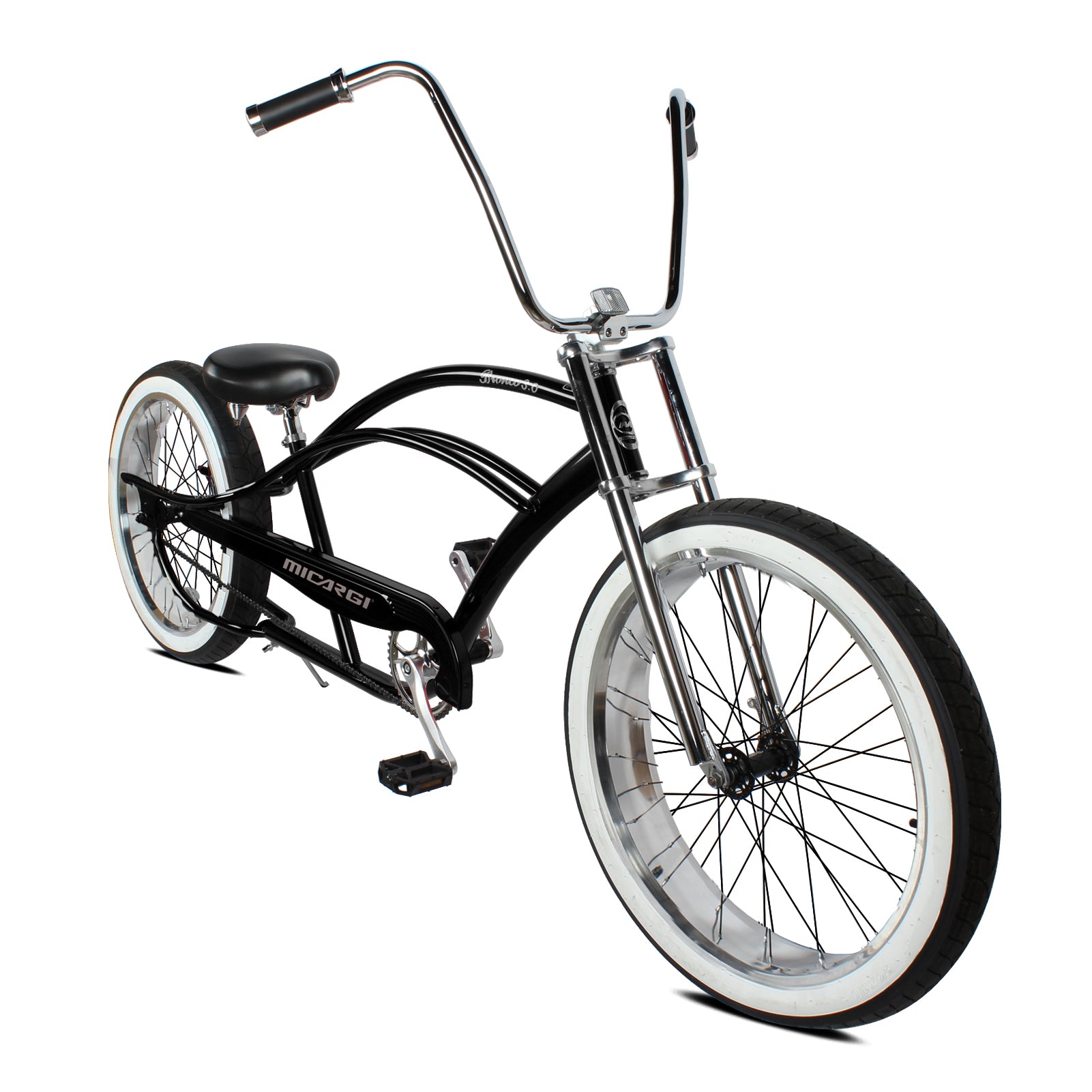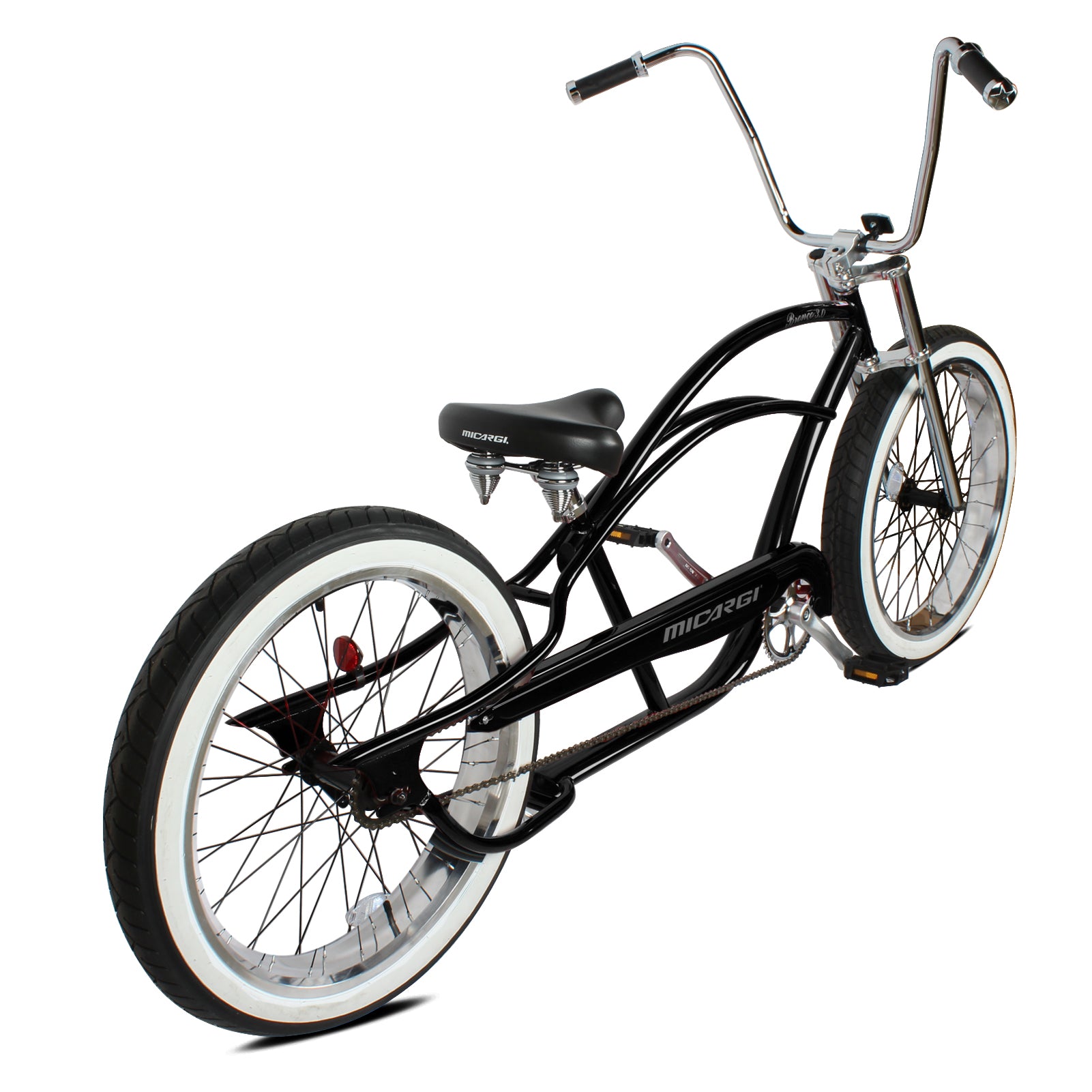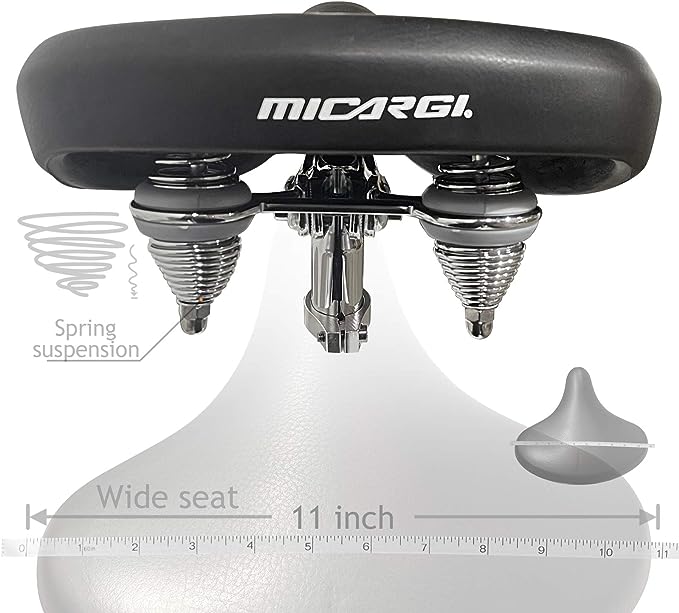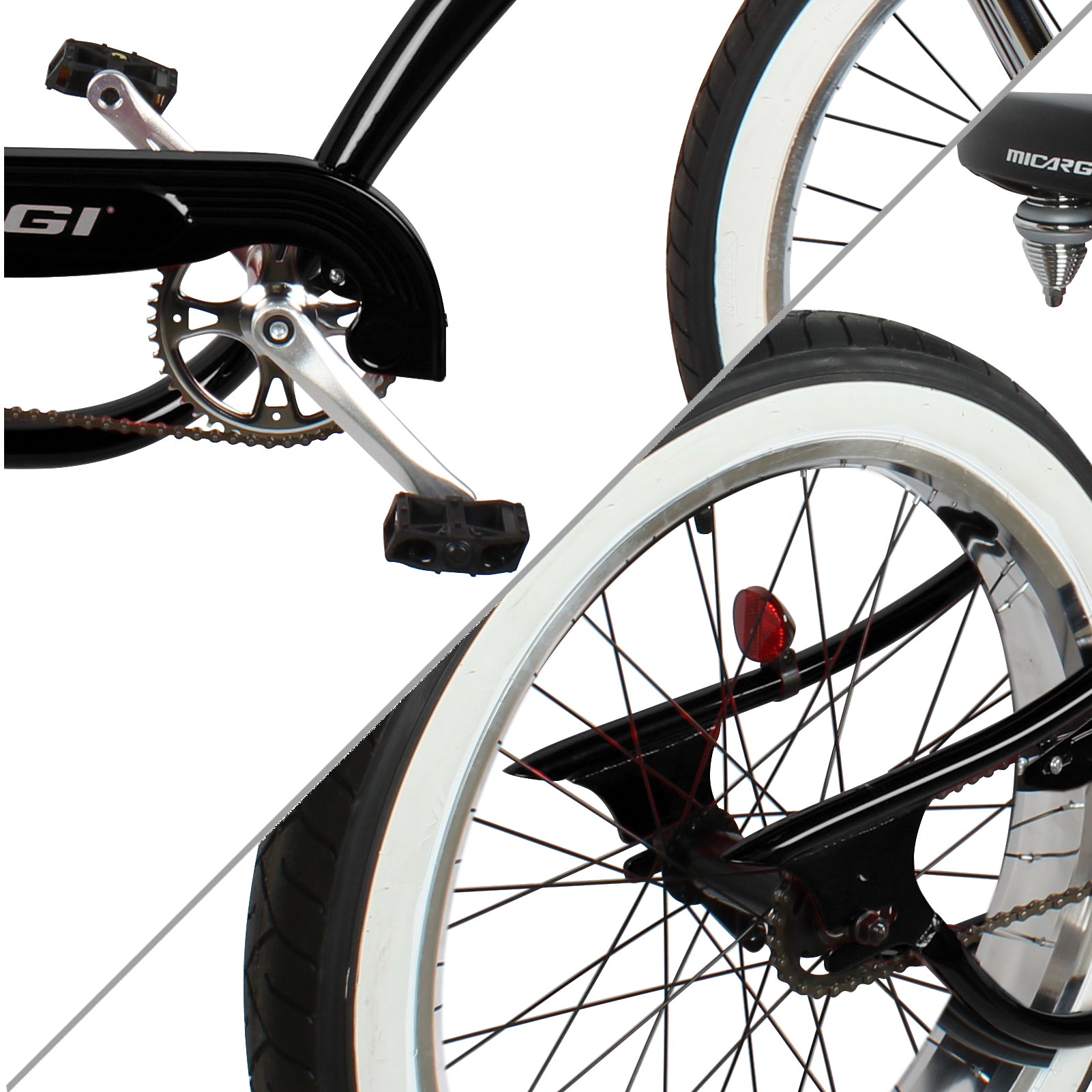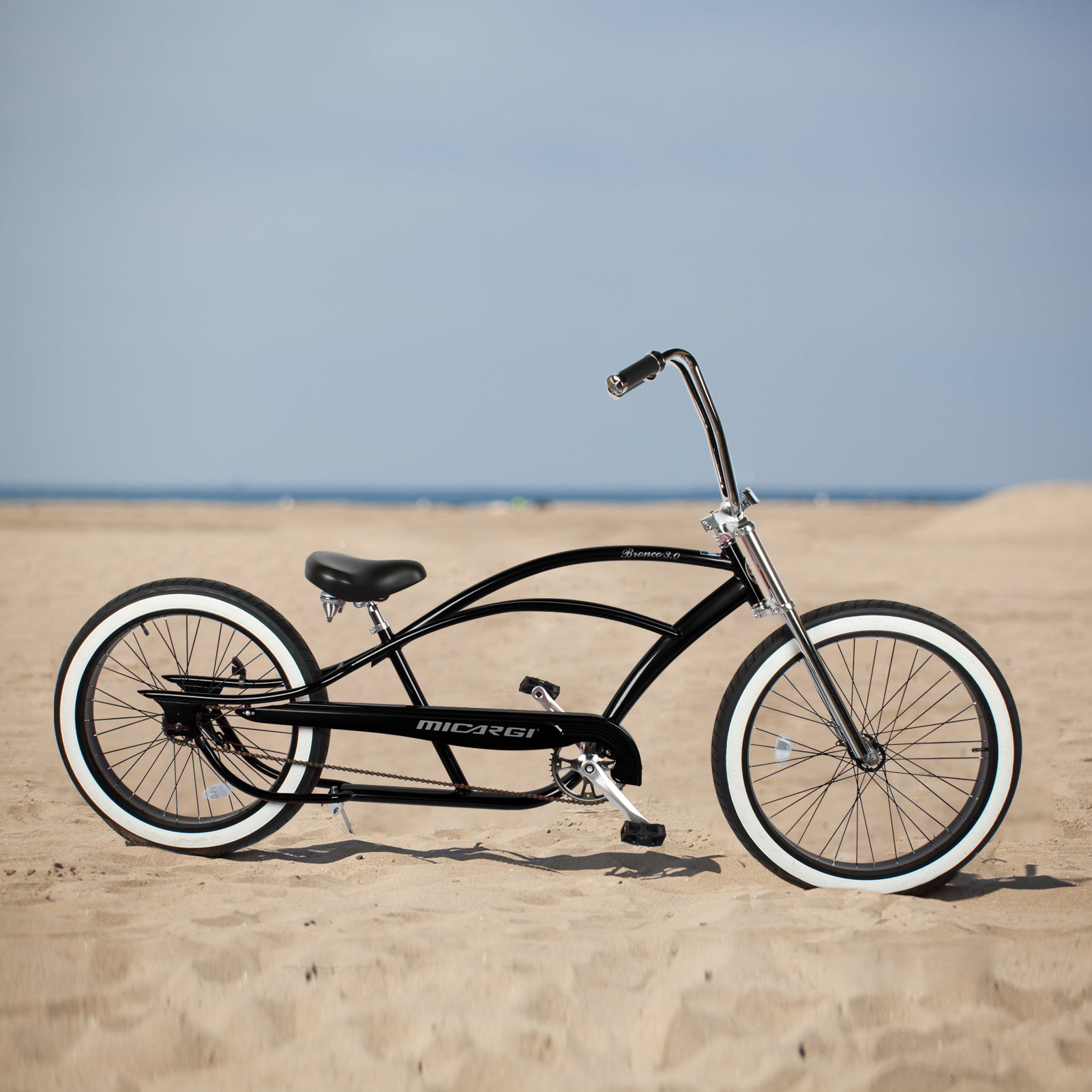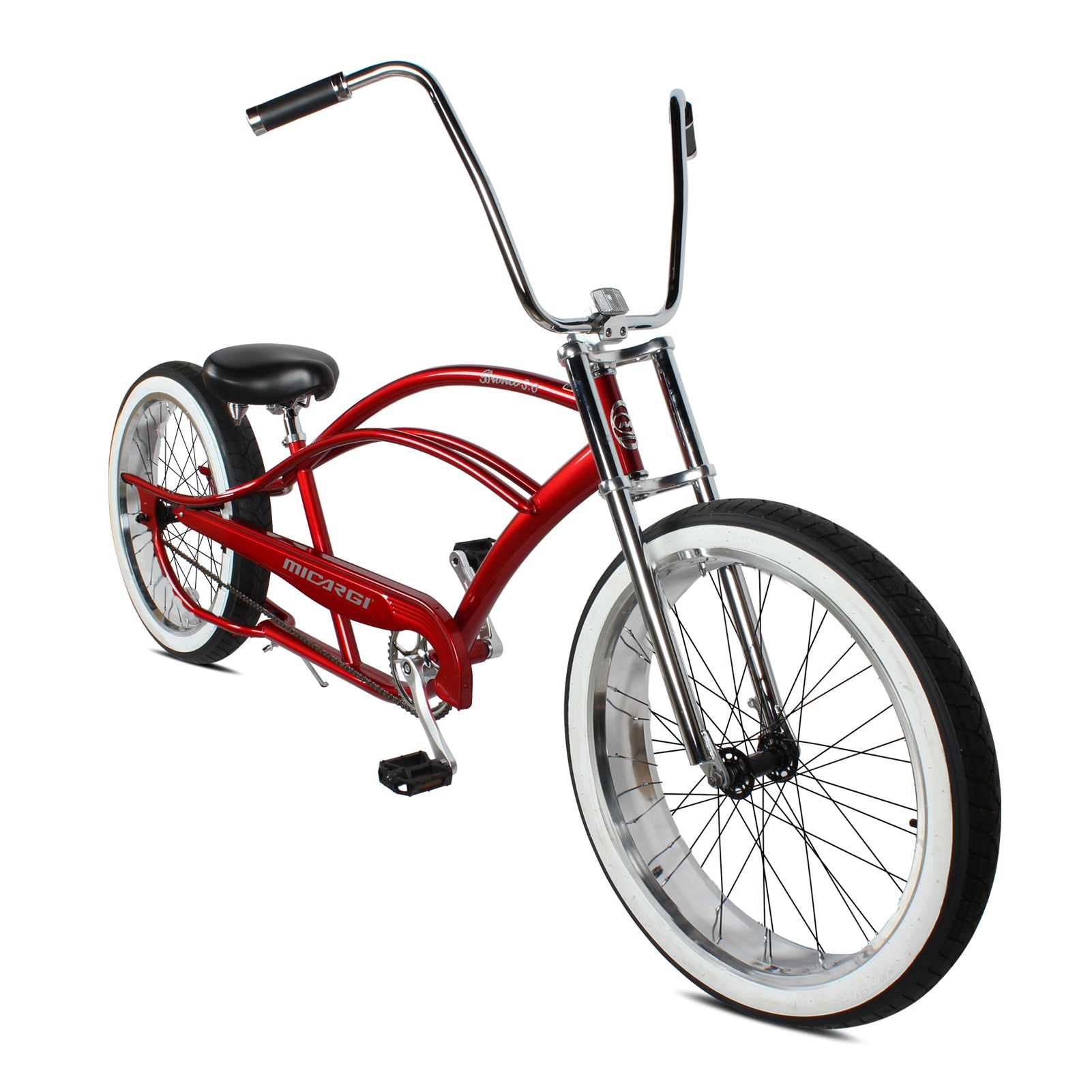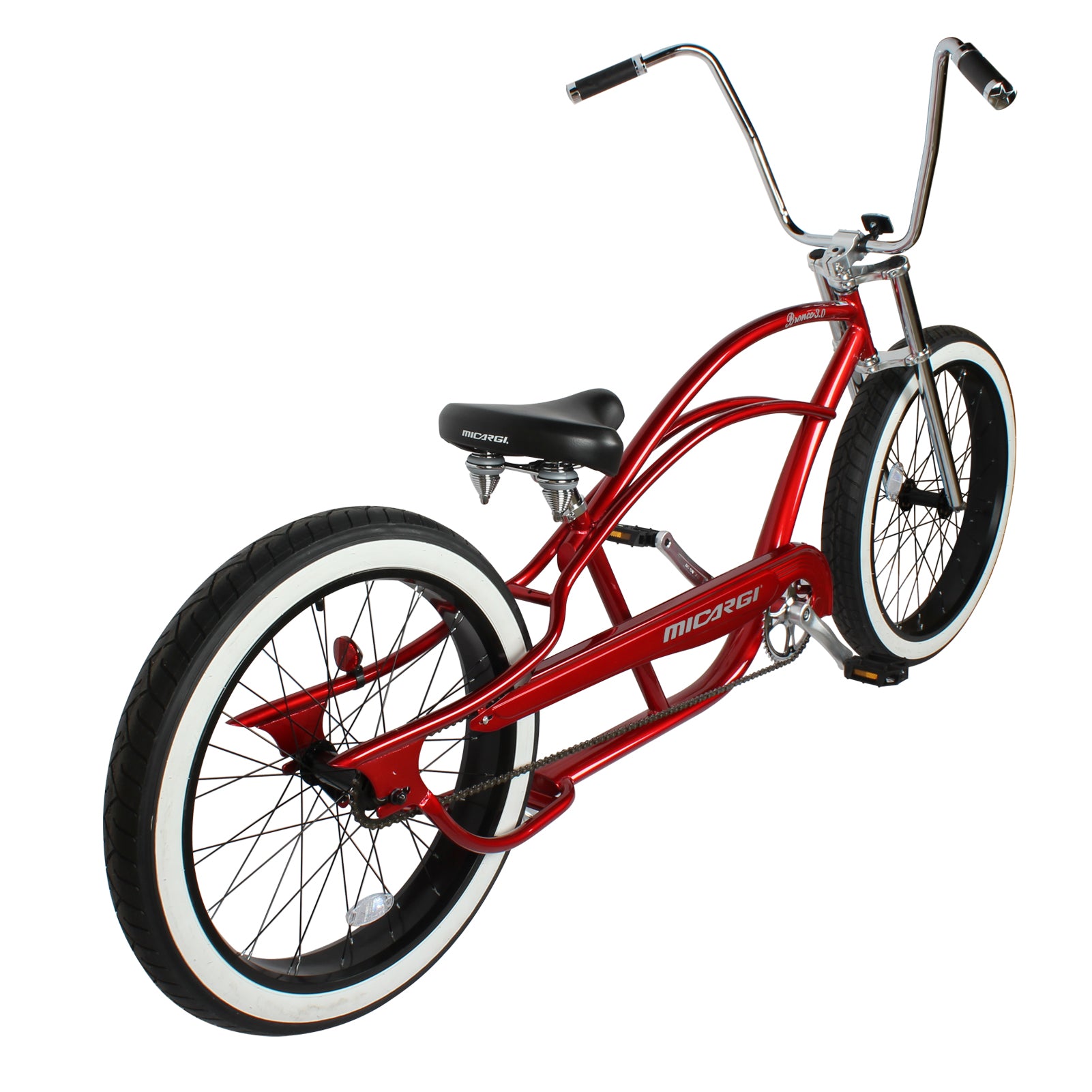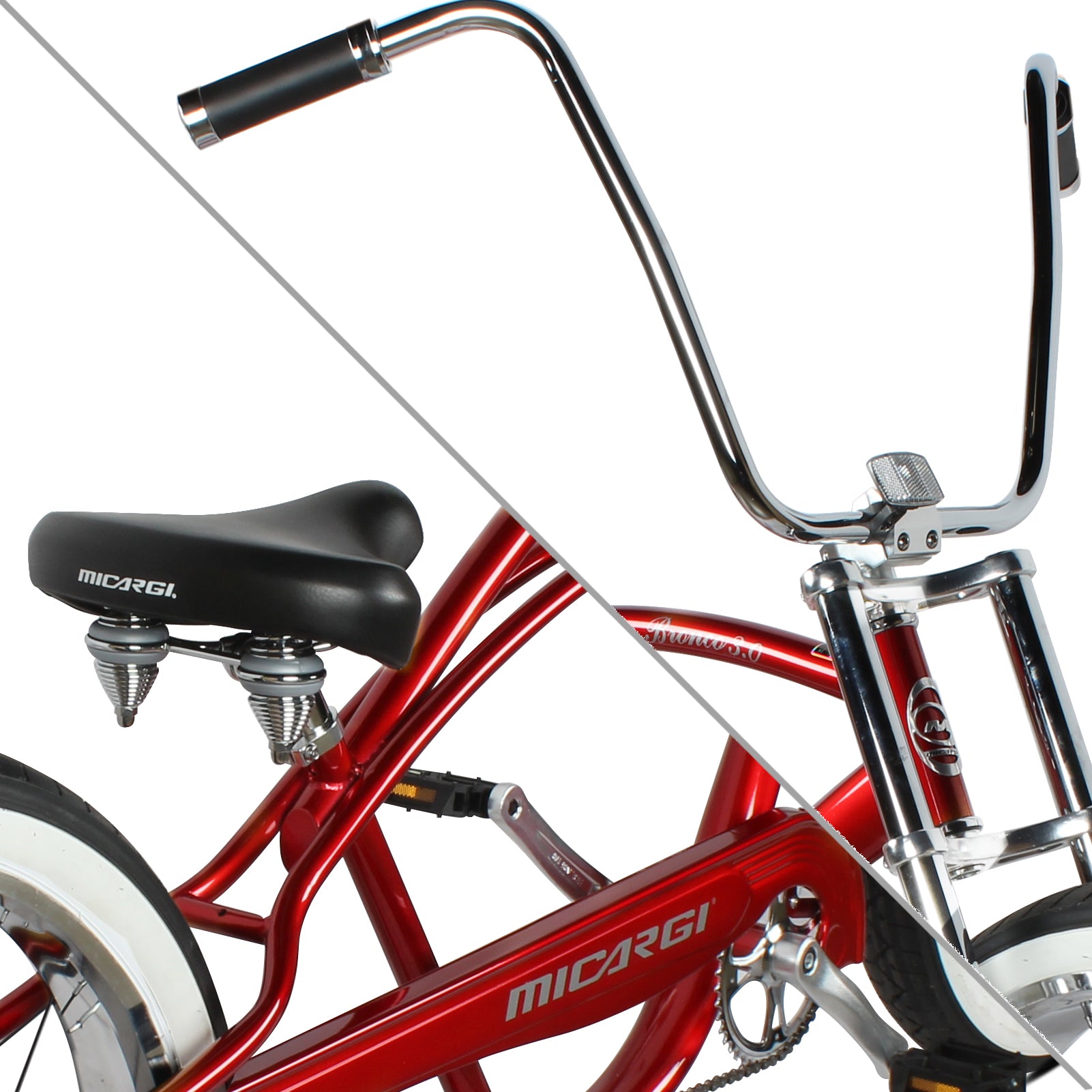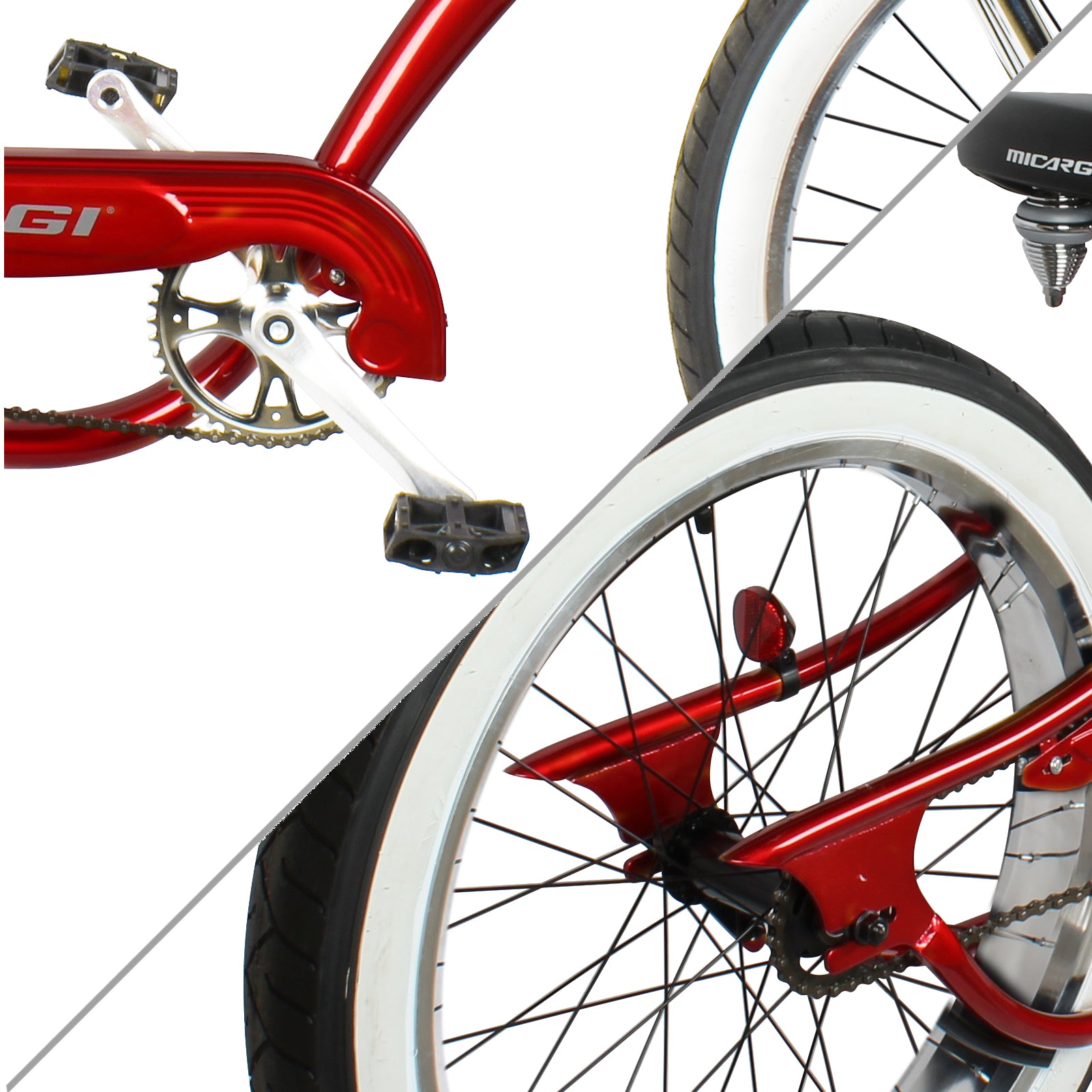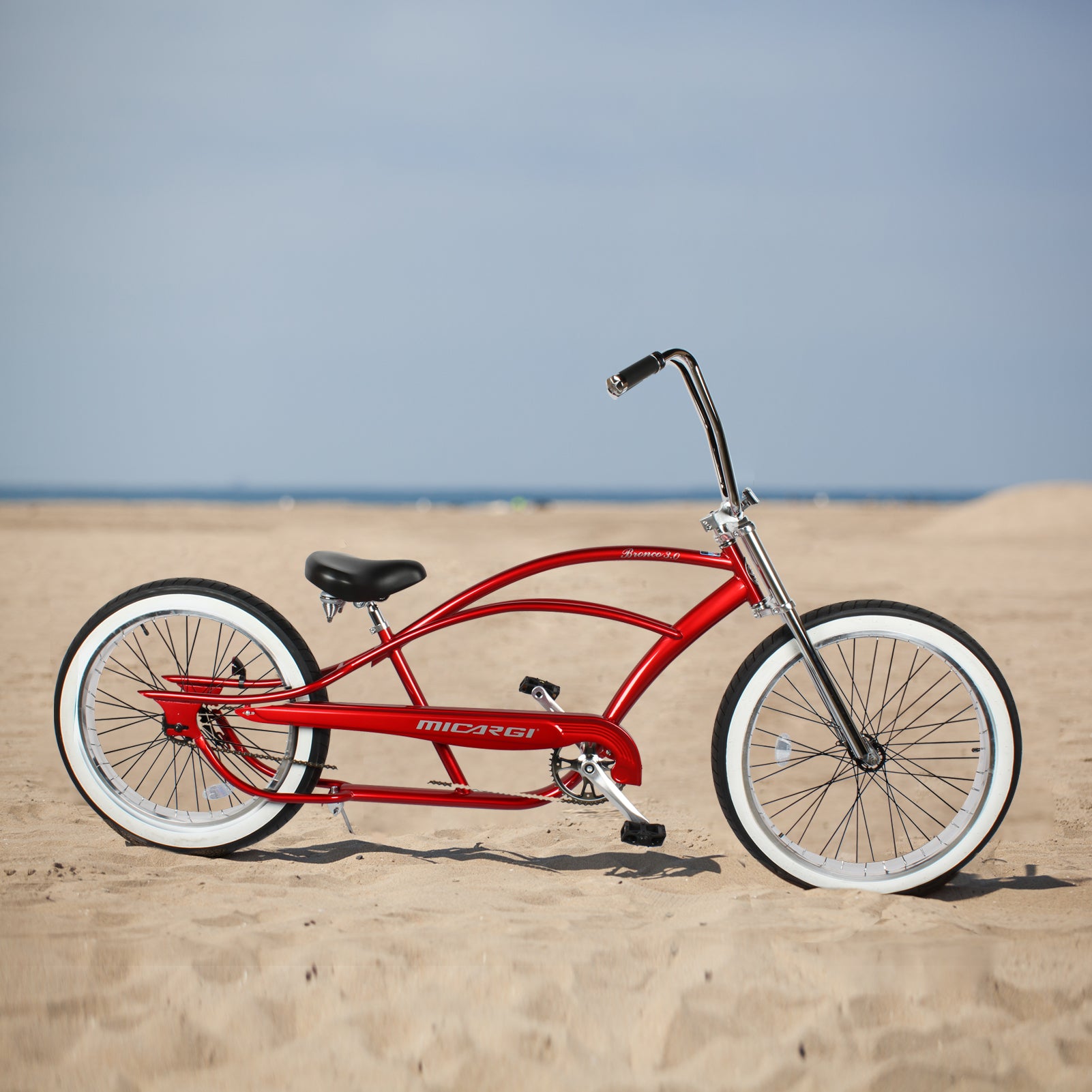 Micargi Bronco3.0 26" Cruise Beach Bike
Regular price
$999.00 USD
Sale price
$999.00 USD
Regular price
$1,199.00 USD
- We offer FREE SHIPPING to the contiguous states in the United States.
- Processing Time: For "In Stock" products, it typically takes 1-2 business days for our warehouse to prepare for the shipping after the order is placed. The tracking information can take extra time to be updated after the tracking number is created.
- Delivery Time: The final delivery time can vary depends on your local carrier.
*If you have further questions, please feel free to contact us at info@micargibike.com
3-5 Days Delivery,Ship from U.S.
Bike *1
Reflector*2
Pedals *2
Saddle *1
Saddle Stem*1
User Manual *1
(Note:e-bike will include Battery Charger *1 &Battery *1)
Q1: How long does it take to receive the placed order?

A: In general, orders typically process within 1-2 business day and delivery time is typically 3-5 days. If your order is in stock and you don't receive tracking number after 3 business days, please contact our after-sales service team for tracking information.

Customer service email: info@micargibike.com
Q2: Why did my payment fail?

A: It may be that the network is unstable, please try to change the browser or try again after a while, or log in with another email address and try to place the order.

Q3: Can I use installment payment?

A: It is available with shop pay and 4 interest-free installments

Q4: I have not received the order confirmation and tracking number information, how can I get it?

A: Please don't worry. You just need to contact our customer service staff to provide you with the order number and tracking number.

Customer service email: info@micargibike.com

Q5: What method can I use to pay?

A: We mainly accept payment via PayPal and credit card.

You can make the payment shop pay google pay meta pay, PayPal, Discover Club, Visa, Master card, or Maestro...


Q6: Can I modify the bike by myself, such as brakes, chains, gears, and generators?

A: If you are not familiar with the performance of the bicycle, we recommend not to modify it at will. If you must modify it, please contact our customer service staff to verify whether it can be modified.

customer service email: info@micargibike.com


Q7: I need to buy parts, how can I buy them?

A: We recommend that you view with our website accessories the purchase. If your does not found it, you can contact
info@micargibike.com

Micargi Bronco3.0 26" Cruise Beach Bike – a stunning blend of style, durability, and comfort that promises to elevate your cruising experience to new heights. This beach cruiser comes in an array of eye-catching colors, allowing you to choose the one that best suits your personal taste and style. With options like Black/Polish, Matte Black/Black & Red, and Black, you're sure to find a color that speaks to you.
Built for smooth sailing and effortless rides, the Micargi Bronco 3.0 boasts an impressive set of specifications that will surely impress riders of all levels. Equipped with a Triple Tree Fork, this bike ensures excellent stability and control, making it ideal for leisurely strolls along the beach or paved city paths.
Riding comfort is taken to the next level with the inclusion of HI RISE Handlebars, providing an ergonomic grip and enabling a relaxed, upright riding position. Whether you're exploring the neighborhood or pedaling your way to the store, you'll feel at ease throughout your journey.
The Micargi Bronco 3.0  26" embraces simplicity and ease of use with its Single-Speed gear system. This means you won't have to worry about shifting gears, making it a breeze to ride and maintain. Combined with the durable One Piece Crank and Three Piece Alloy Crank, this bike ensures a smooth and efficient pedaling experience.
Moving on to the wheels, the Micargi Bronco 3.0  26" features Alloy Rims with a 26" front wheel and a slightly smaller 24" rear wheel. This configuration enhances stability and control while maintaining a stylish appearance. The Black Spokes complement the overall design, adding a touch of sophistication to the bike's look.
Rounding off the package are the wide Black Tires, each measuring an impressive 24x3.0 inches with a 68H rating. These tires provide excellent traction and smooth handling, allowing you to effortlessly glide over various terrains, from sandy shores to city streets.
Whether you're a casual cruiser or a seasoned cyclist, the Micargi Bronco 3.0 Cruise Beach Bike caters to all riders who seek a blend of style and performance. Experience the joy of beachside cruising or leisurely city rides with this versatile and reliable beach bike that is sure to turn heads wherever you go.
Specifications:
Colors Option: Black/ Polish & Matte Black/ Black & RED / Black
Fork: Triple Tree Fork
Handlebar:HI RISE Handlebars
Gear: Single-Speed
Crankset: One Piece Crank
Rims: Alloy Rims ;26" Front  &  24 " Rear
Tire:Black Tire 24x3.0 68H Black Tire 24x3.0
Crank:Three Piece Alloy Crank
Spokes:Black Spokes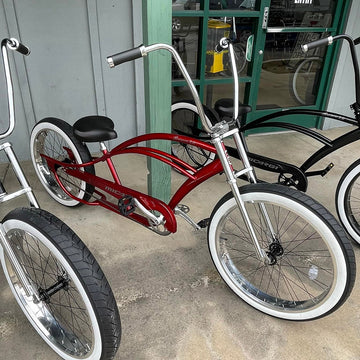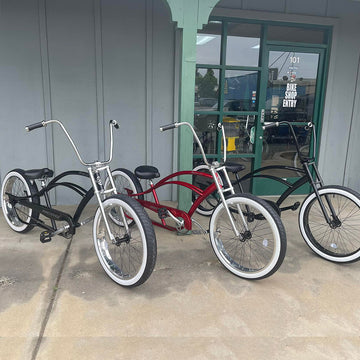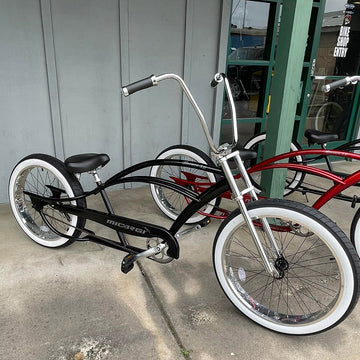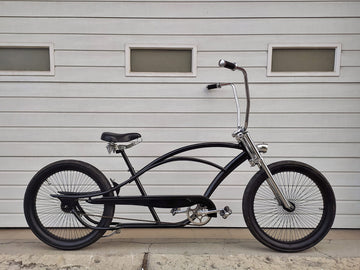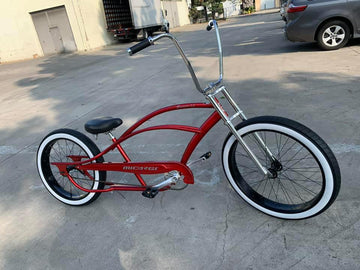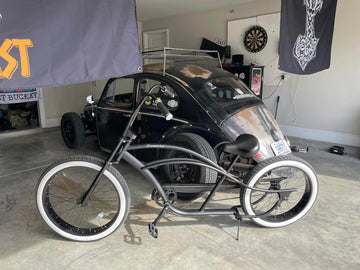 Bronco 3.0
This is my second recent purchase of a Micargi Stretched bike. The Micargi Bronco 3.0 arrived in good condition and the bike is so beautiful with its Red paint and shiny chrome rims. During my initial ride on my Bronco I noticed that the front wheel is wobbling, so now I must take the bike to the bike shop to get it repaired, but through it all I'm satisfied and I'm looking forward to purchasing a Micargi/Tracer soon.
Fun and easy to ride around town
Many users enjoy the back, fun-filled experience of riding the Micargi Bronco3.0, particularly during beachside excursions or leisurely strolls in the neighborhood
Overall very happy
SteveAnon's electric conversion bike is the coolest looking ever!!!