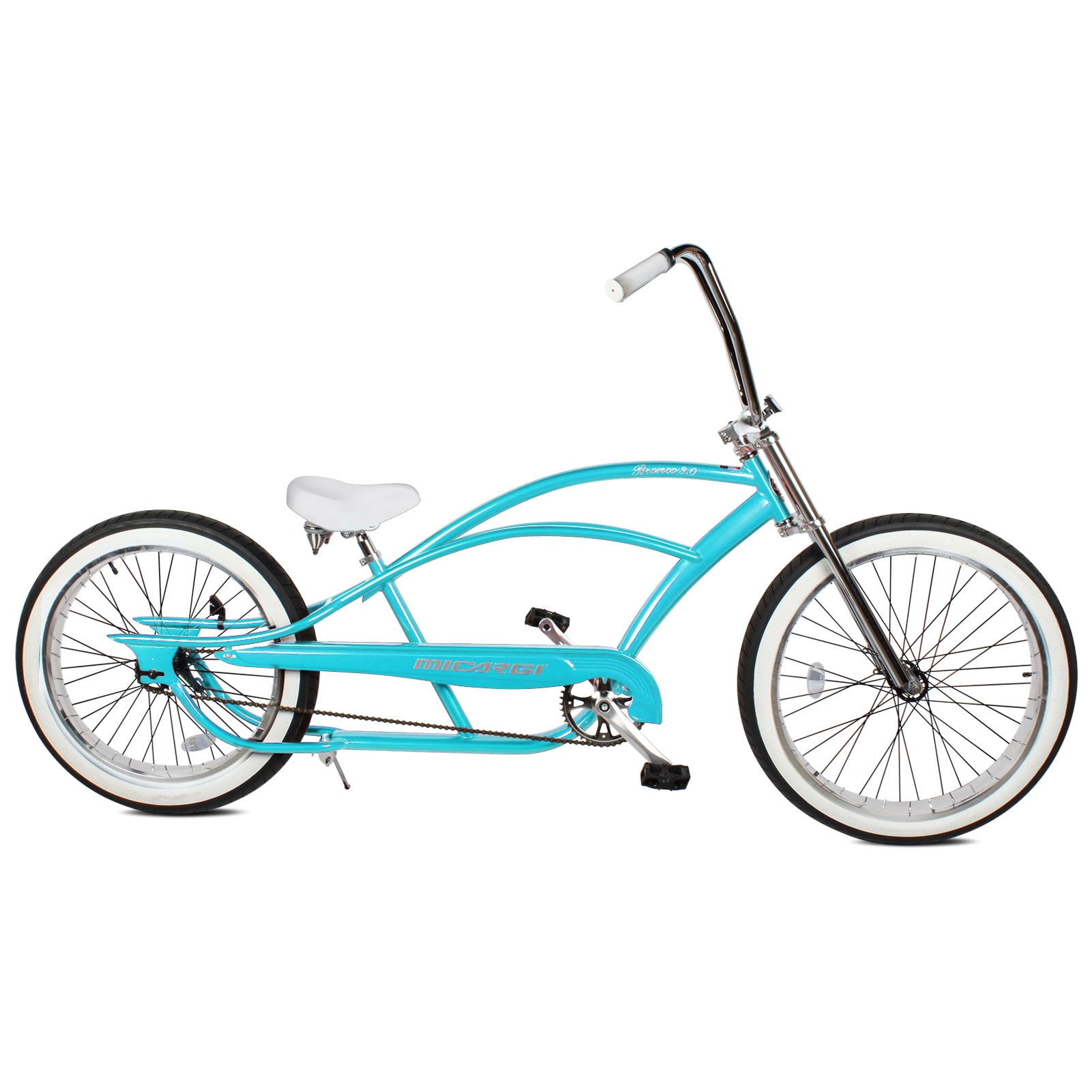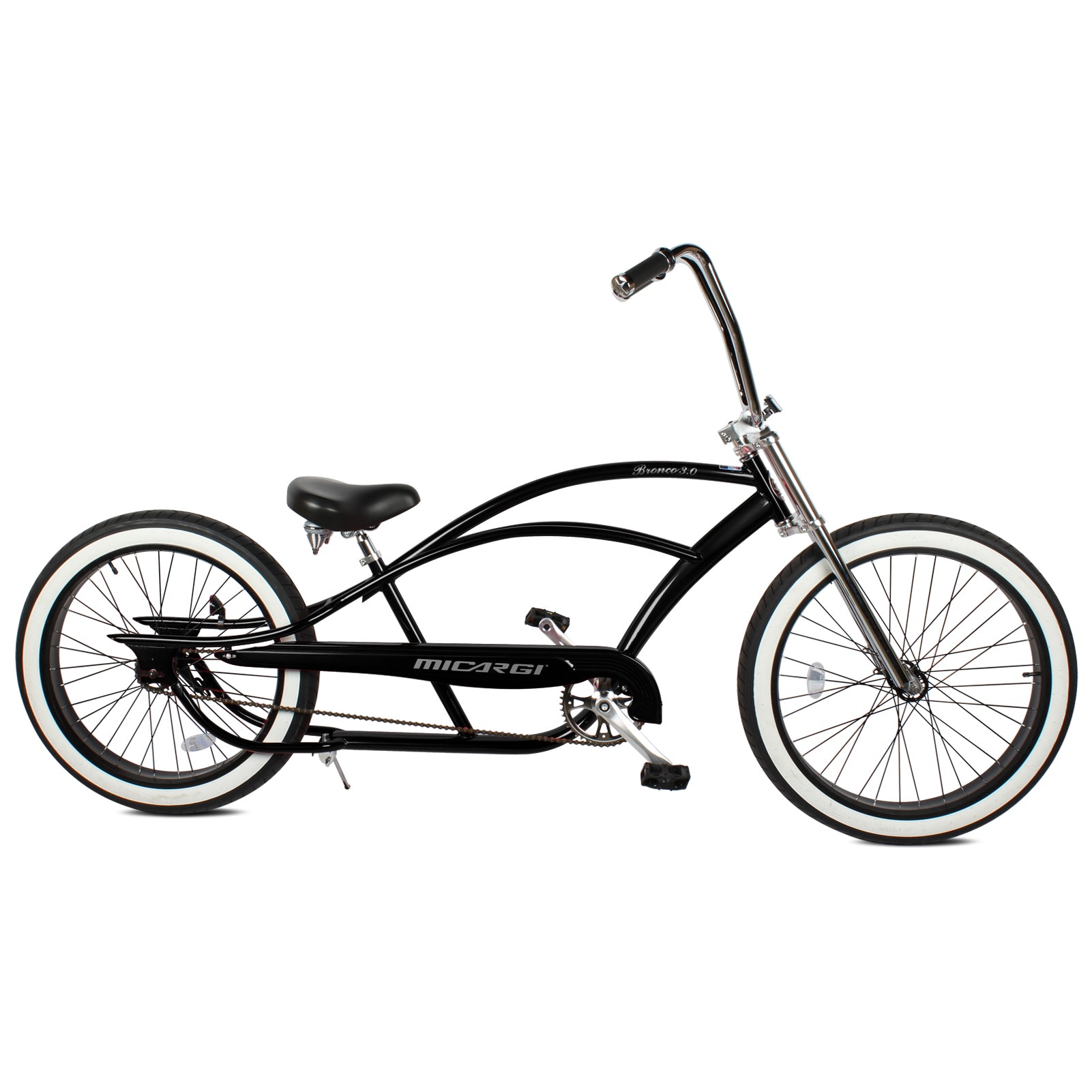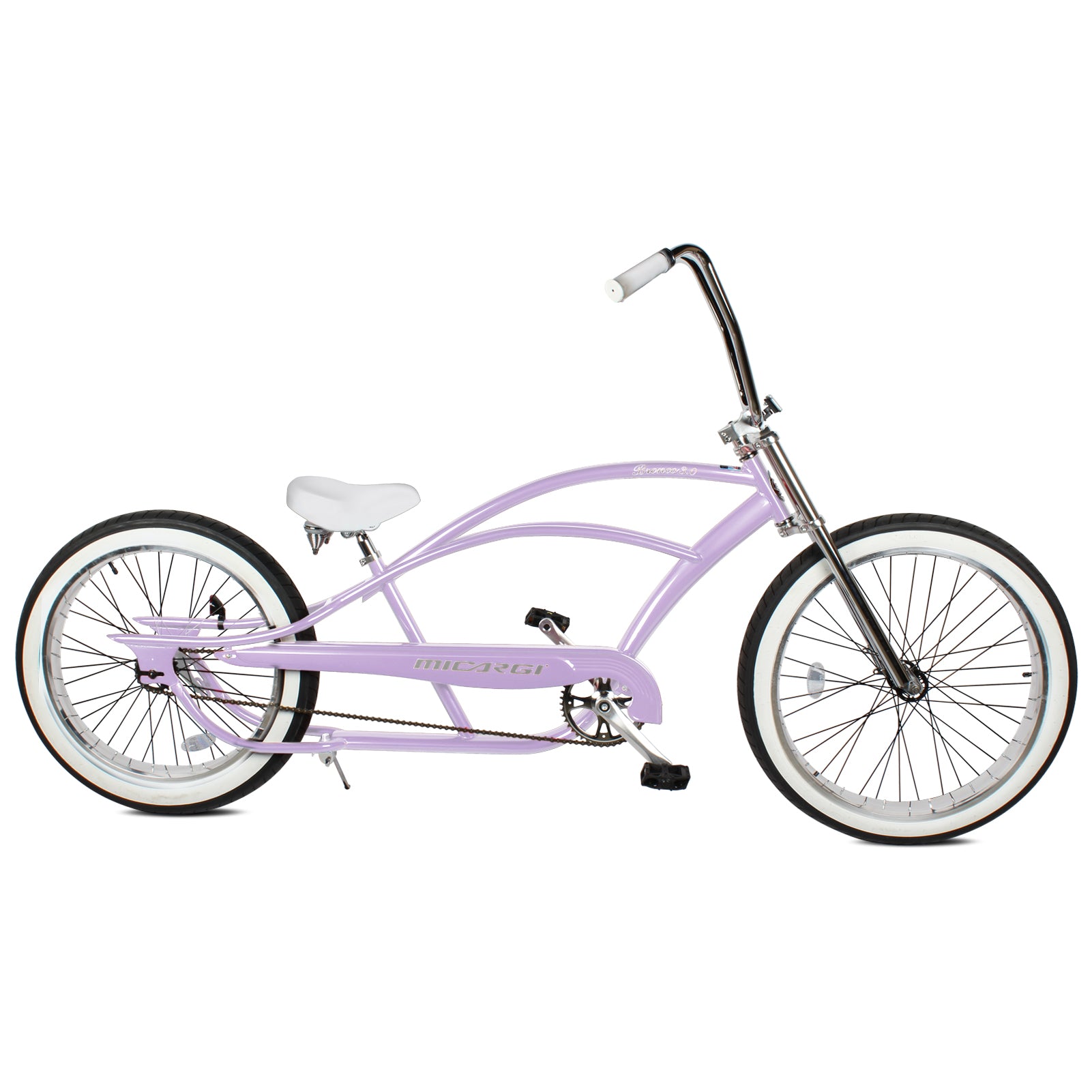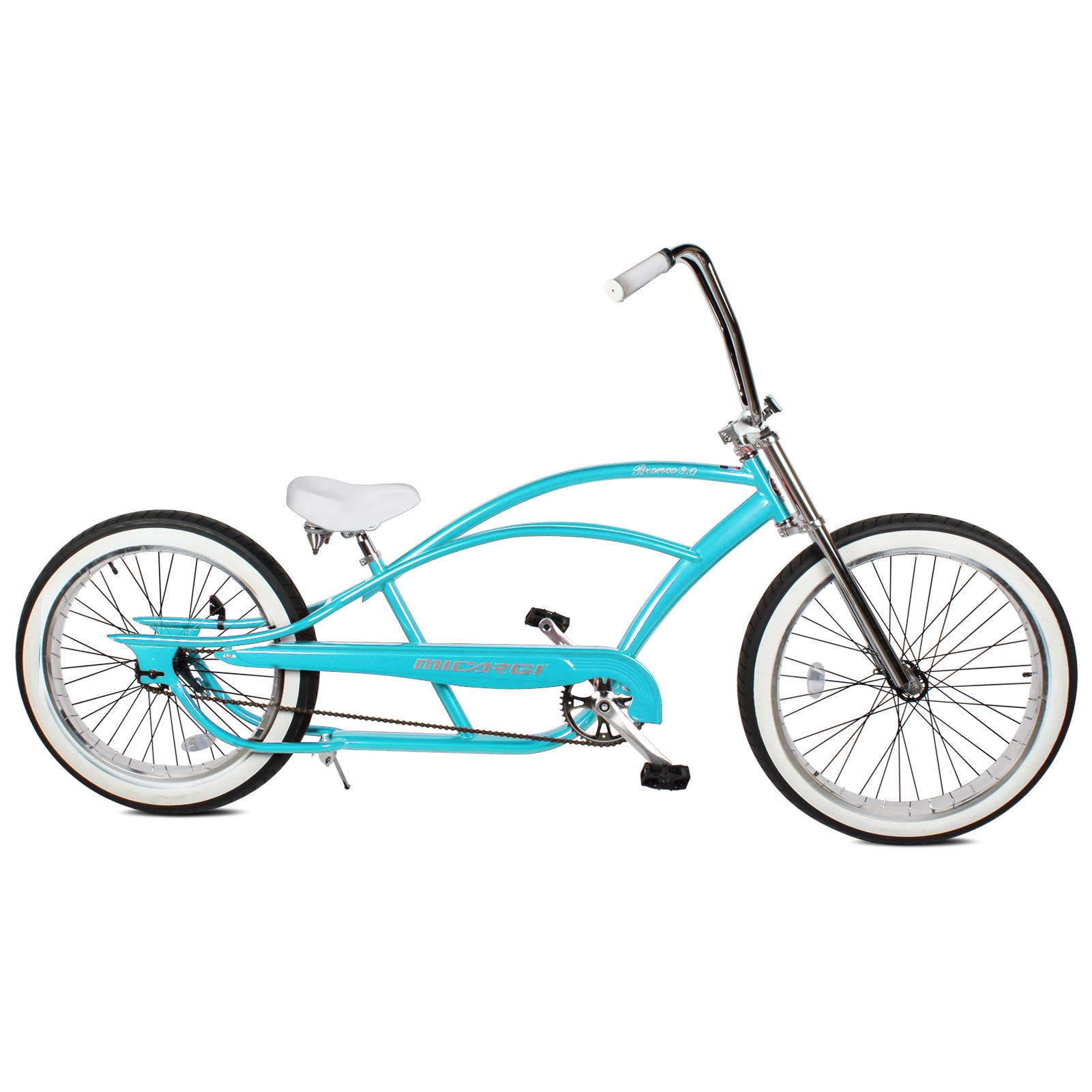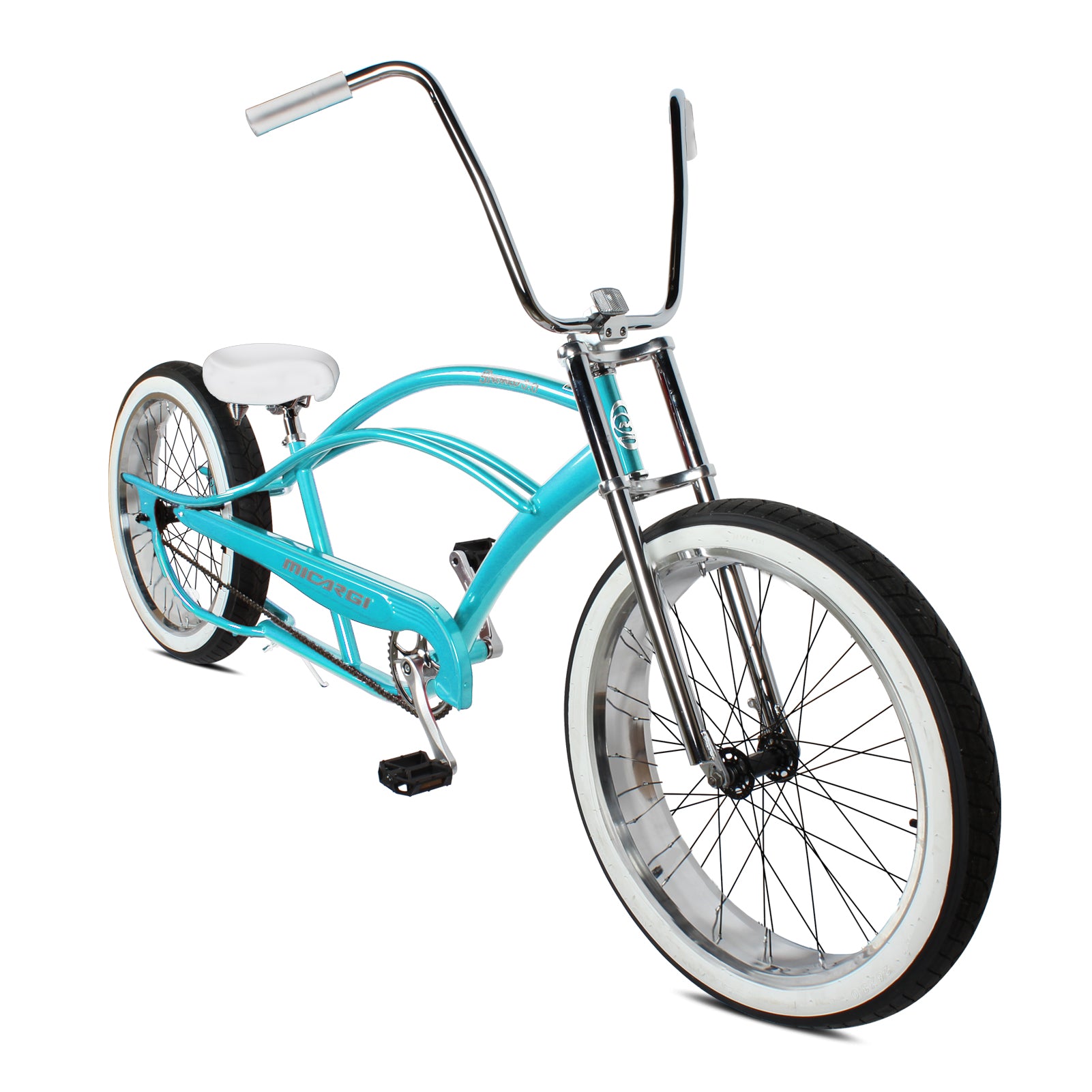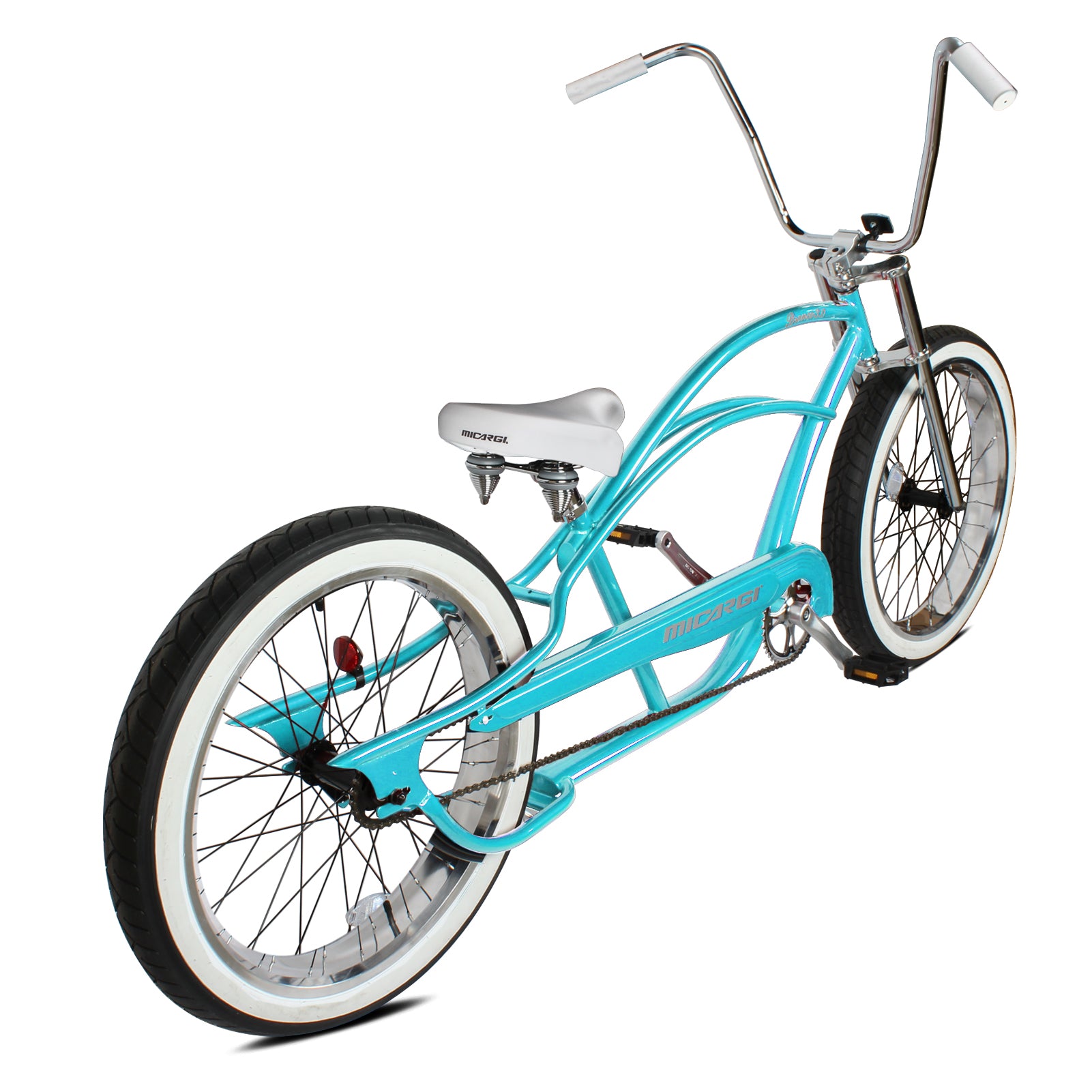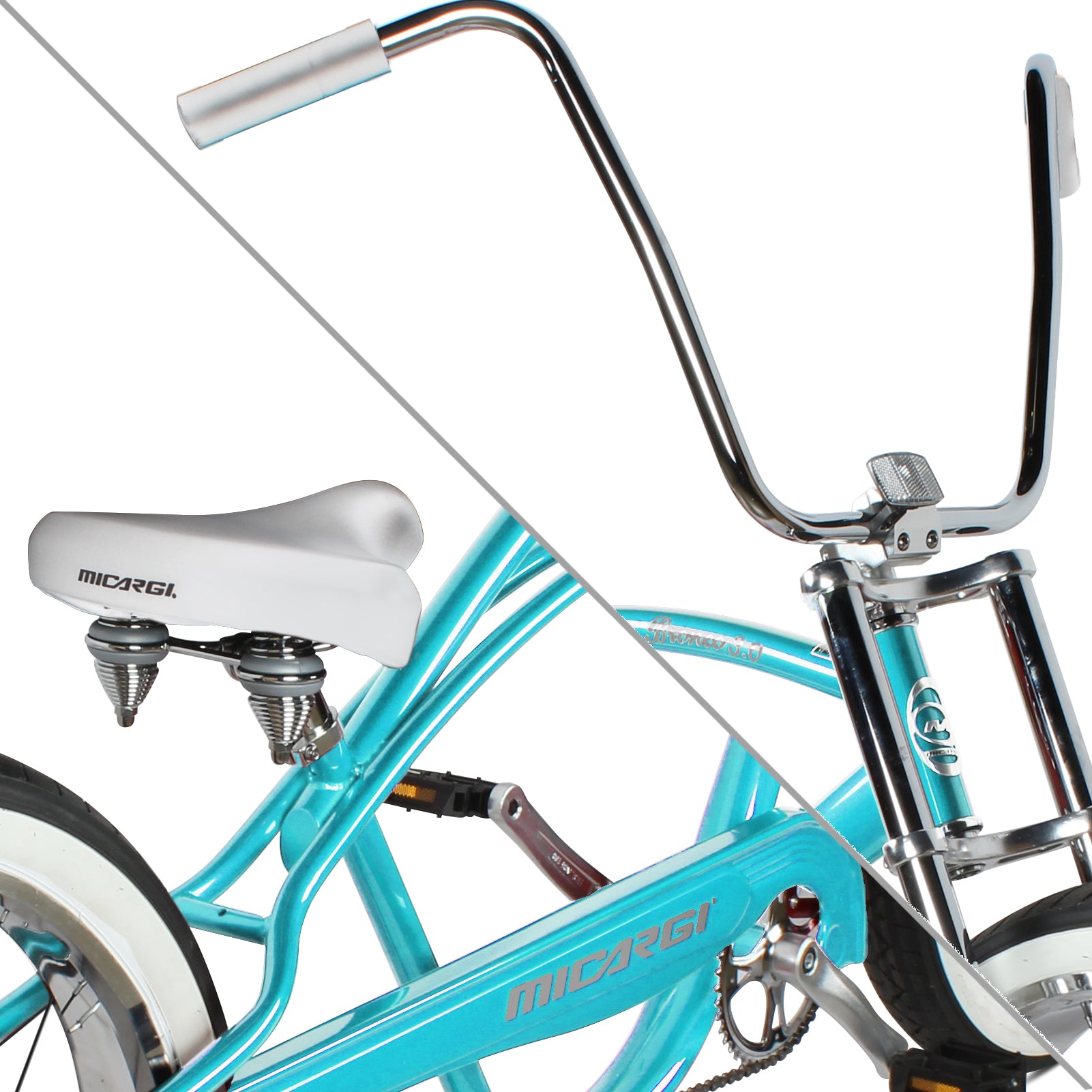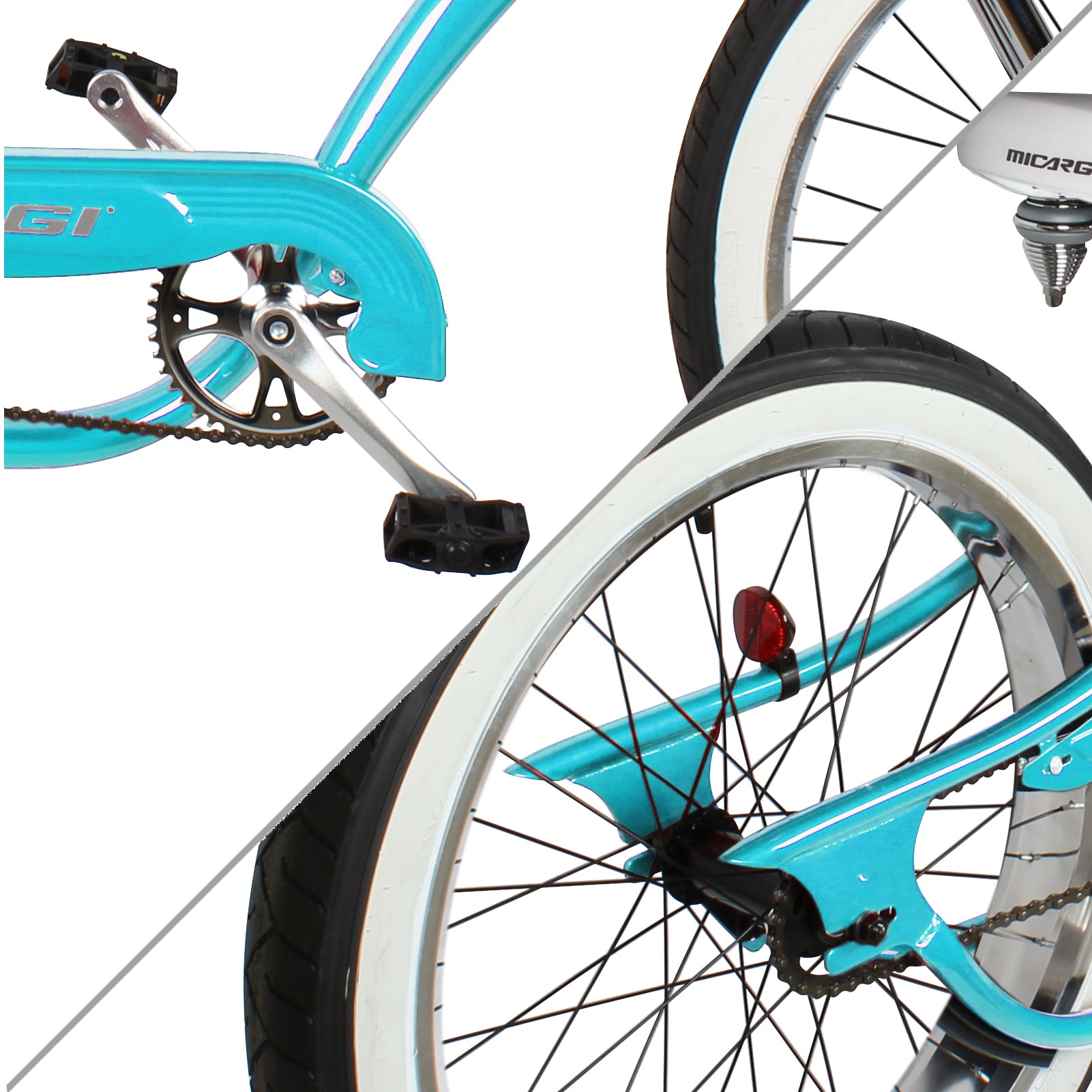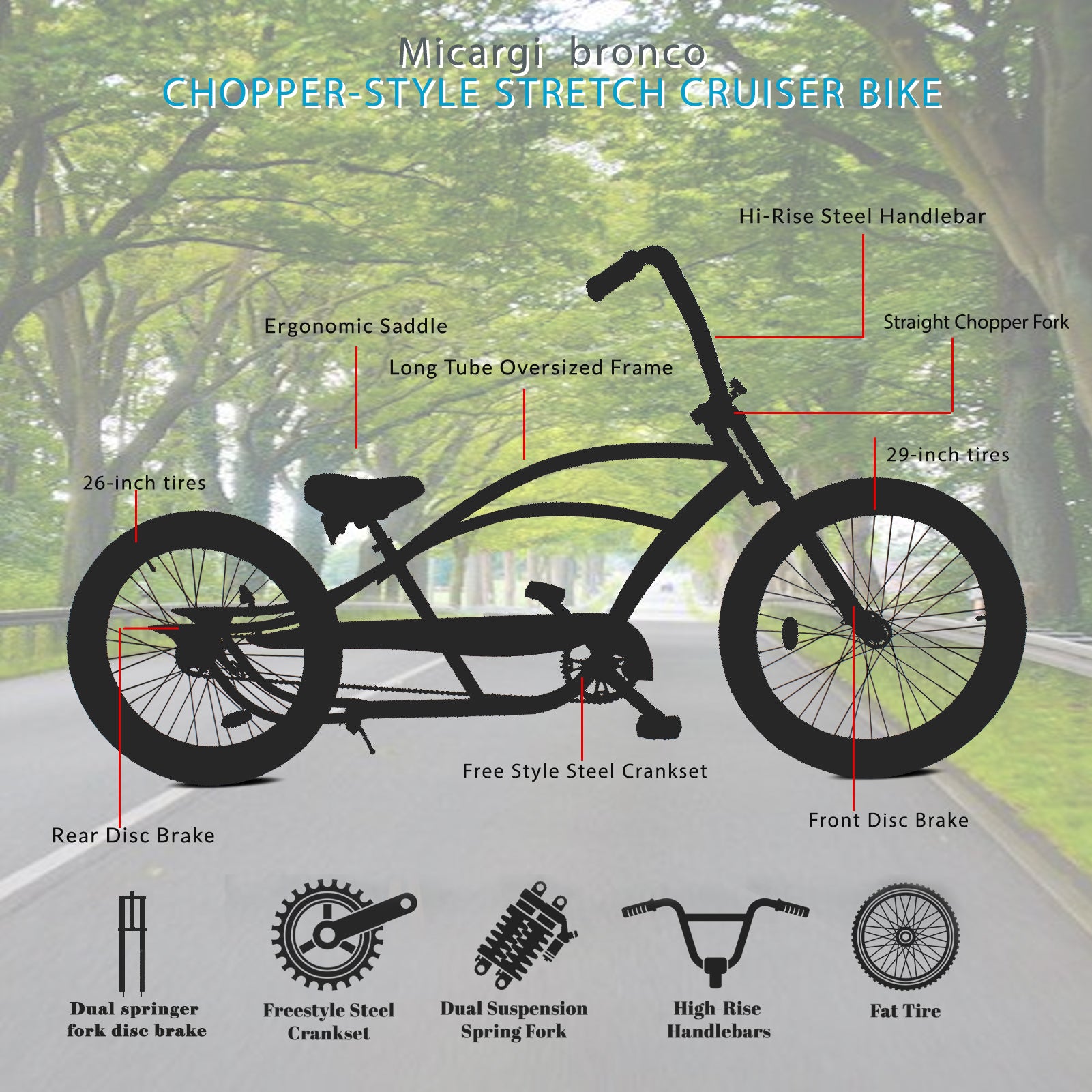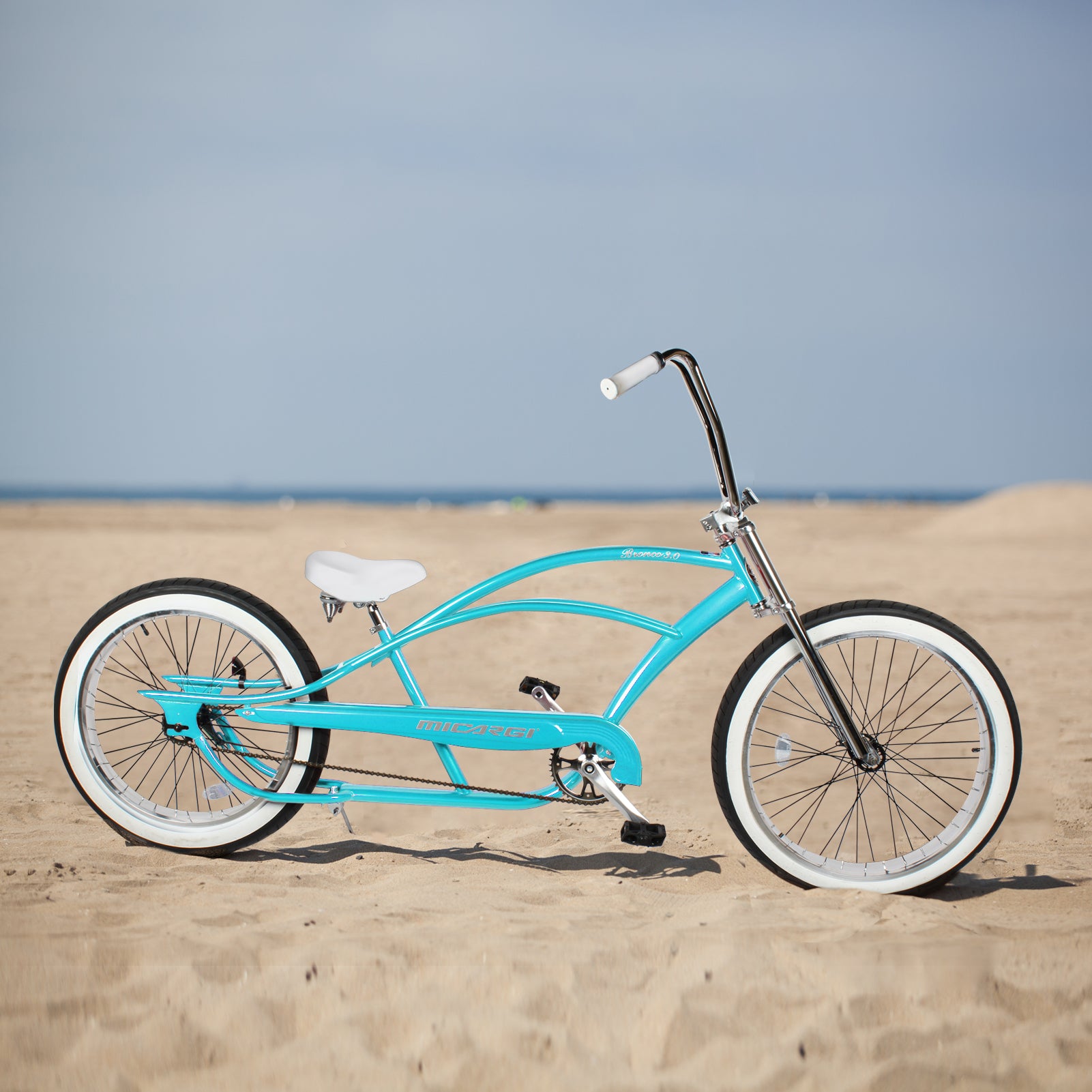 Micargi Bronco 3.0 29'' Stretch Beach Cruiser Bike
Regular price
$1,099.00 USD
Sale price
$1,099.00 USD
Regular price
$1,099.99 USD
- We offer FREE SHIPPING to the contiguous states in the United States.
- Processing Time: For "In Stock" products, it typically takes 1-2 business days for our warehouse to prepare for the shipping after the order is placed. The tracking information can take extra time to be updated after the tracking number is created.
- Delivery Time: The final delivery time can vary depends on your local carrier.
*If you have further questions, please feel free to contact us at info@micargibike.com
3-5 Days Delivery,Ship from U.S.
Bike *1
Reflector*2
Pedals *2
Saddle *1
Saddle Stem*1
User Manual *1
(Note:e-bike will include Battery Charger *1 &Battery *1)
Q1: How long does it take to receive the placed order?

A: In general, orders typically process within 1-2 business day and delivery time is typically 3-5 days. If your order is in stock and you don't receive tracking number after 3 business days, please contact our after-sales service team for tracking information.

Customer service email: info@micargibike.com
Q2: Why did my payment fail?

A: It may be that the network is unstable, please try to change the browser or try again after a while, or log in with another email address and try to place the order.

Q3: Can I use installment payment?

A: It is available with shop pay and 4 interest-free installments

Q4: I have not received the order confirmation and tracking number information, how can I get it?

A: Please don't worry. You just need to contact our customer service staff to provide you with the order number and tracking number.

Customer service email: info@micargibike.com

Q5: What method can I use to pay?

A: We mainly accept payment via PayPal and credit card.

You can make the payment shop pay google pay meta pay, PayPal, Discover Club, Visa, Master card, or Maestro...


Q6: Can I modify the bike by myself, such as brakes, chains, gears, and generators?

A: If you are not familiar with the performance of the bicycle, we recommend not to modify it at will. If you must modify it, please contact our customer service staff to verify whether it can be modified.

customer service email: info@micargibike.com


Q7: I need to buy parts, how can I buy them?

A: We recommend that you view with our website accessories the purchase. If your does not found it, you can contact
info@micargibike.com

Micargi Bronco 3.0 29'' Stretch Beach Cruiser Bike, a stylish and unique cruiser designed to provide a smooth and comfortable ride on any beach or city streets. This bike offers a range of vibrant color options, including Baby Blue, Black, Light Purple, Orange, Purple, and Red, allowing you to choose a color that perfectly suits your personality and preferences.
Built with a Tracer Hi-ten steel Classical Chopper Cruiser Stretch Cruiser frame, the Micargi Bronco 3.0 29'' offers durability and stability, making it a reliable companion for your leisurely rides. The Tracer Triple Tree alloy Crowns fork further enhances the bike's control and handling, ensuring a steady and enjoyable cruise.
The handlebar is designed for maximum comfort and style, featuring a Micargi High Rise Steel Moon-Type handlebar that allows you to ride in an upright position with ease. The alloy 28.6mmx22.2mm Heavy Duty stem ensures the handlebar's secure attachment to the bike's frame.
For a smooth and cushioned seating experience, the bike is equipped with a vacuum elastic PVC leather saddle with high-density PU foam and springs. This combination provides excellent support and minimizes discomfort during longer rides.
The Micargi Bronco 26'' Stretch Beach Cruiser Bike features a reliable KT Coaster brake, offering easy and efficient stopping power. The absence of shifters, front derailleur, and rear derailleur contributes to the bike's simplicity and ease of use, making it perfect for riders who prefer a single-speed setup.
The alloy/steel crankset with a length of 170mm and a 44T teeth count ensures smooth pedaling and efficient power transfer. The bike's bottom bracket, a NECO Cartridge Steel with dimensions of 100x159.5mm, provides stability and durability for the crankset assembly.
Rolling on an alloy wide 80mm 29"36H13G spoke wheelset with KT Coaster hubs, the Micargi Bronco 3.0 29'd delivers a smooth and stable ride. The 29x3.0 black tires provide excellent traction and stability on various terrains, giving you the confidence to explore different paths.
While the bike doesn't come with fenders or additional accessories, it is a versatile cruiser that allows you to personalize and accessorize to your heart's content.
Experience the joy of cruising in style with the Micargi Bronco 26'' Stretch Beach Cruiser Bike. Whether you're gliding along sandy beaches or cruising through the city, this bike is designed to make your rides comfortable, enjoyable, and unforgettable.
Specifications:
SIZES:29"
COLORS option:Baby Blue. Black, Light Purple,Orange,Purple,Red
FRAME:Tracer Hi-ten steel Classical Chopper Cruiser Stretch Cruiser
FORK:Tracer Triple Tree alloy Crowns 28.6X25.4x222mm
SHOCK:N/A
HANDLEBAR:Micargi High Rise Steel Moon-Type  handlebar
STEM:alloy 28.6mmx22.2mm Heavy Duty
HEADSET Steel Diameter 1-1/8x30xH34mm
SEATPOST:Steel 28.6x200mm
SADDLE:vacuum elastic PVC leather+high density PU foam with springs
PEDALS:One-piece PP
SHIFTERS :N/A
FRONT DERAILLEUR:N/A
REAR DERAILLEUR:N/A
BRAKE:KT Coaster
BRAKE LEVERS:N/A
CASSETTE:KT 22T
KMC S1 1/2"x1/8" Links: 174L
CRANKSET:Alloy/steel, Crank Arm Length: 170mm or 6.7"in Teeth Count: 44T
BOTTOM BRACKET
NECO Cartridge Steel 100x159.5mm
RIMS:Alloy Wide 80mm 29"*36H*13G Spoke wheelset
HUB:KT Coaster 3/8"x13Gx36H Front: 135x175mm Rear: 170x210mm
SPOKES:13 gauge steel
TIRES:Black, 29x3.0
FENDERSN/A
EXTRAS :N/A